Winter Forum in Belgium
Winter Forum en Belgique
Winter Forum in België

From friday 1 to sunday 3 March 2019
Come and boost your faith for a great week-end !
Du vendredi 1 au dimanche 3 mars 2019 – Viens réveiller ou booster ta foi pour un week-end de feu !
Vanaf vrijdag 1 tot zondag 3 Maart 2019 – Kom en boost je geloof tijdens dit vurige weekend !
A 18-30 week-end to fill up your batteries !
Meetings, concerts, praise, pray, faith, nature, fun, walk & talk, friends
Un week-end 18-30 pour recharger tes batteries !
Rencontres, concerts, louange, prière, foi, nature, fun, walk & talk, amitiés.
Een 18-30 week-end om je batterijen vol te laden !
Ontmoetingen, concerten, lofprijzing, gebed, geloof, natuur, fin, walk & talk, vriendshap
 A taste of Winter Forum ? … watch the AfterMovie !



Registrations

–

 
Inscriptions

–

 

Inschrijvingen

Clic here / Clique ici / Klik hier
Theme

–

Thème

–

Thema
« Come, Holy Spirit !»
« To put it plainly, the Holy Spirit disturbs us because he moves us, he makes us walk, he pushes the Church forward, too often we want to tame the Holy Spirit, and that does not work. For he is God, and it is this wind that comes and goes, and no one knows where he comes from, he is the strength of God, he gives consolation and strength to go forward. «
Homily of Pope Francis
« Viens, Esprit-saint ! «
« Pour le dire clairement, l'Esprit-Saint nous dĂ©range. Car il nous remue, il nous fait marcher, il pousse l'Eglise Ă  avancer. Trop souvent, nous voulons apprivoiser l'Esprit-Saint. Et cela ne va pas. Car il est Dieu et il est ce vent qui va et vient, et on ne sait d'oĂą il vient. Il est la force de Dieu ; il donne la consolation et la force pour aller de l'avant. »Â 
Homélie du pape François
« Kom, Heilige geest !»
« Om het duidelijk te maken, de Heilige Geest stoort ons omdat hij ons beweegt, hij laat ons lopen, hij duwt de kerk vooruit, te vaak willen we de Heilige Geest temmen, en dat werkt niet. Want hij is God, en het is deze wind die komt en gaat, en niemand weet waar hij vandaan komt, hij is de kracht van God, hij geeft troost en kracht om vooruit te gaan. «
Homilie van paus Franciscus
Program highlights –Â 

Programme

–

Programma
Friday evening : Hands Up night ! + lounge
Saturday: praise, conference#1, mass, sharing groups, walk in beautiful forrests, workshops, diner, mercy evening, + winter bar & lounge concerts
Sunday:Â praise, conference#2, mass, sharing groups, lunch, bye-bye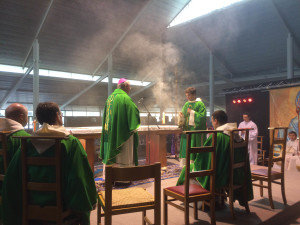 Guests –Â 

Invités

–

Gasten
Workshops
 2 workshops, #1: 16:00, #2: 17:00, first come, first served (inscription during the retreat)
2 workshops #1 : 16h00, #2: 17h00, premier venu , premier servi (inscription pendant la retraite)
2 workshops, #1 : 16u00, #2: 17u00, wie het eerst komt het eerst maalt (registratie tijdens de retraite)
ENG

FR

NL

1
 Holy Spirit expérience !
 L'expĂ©rience de l'Esprit Saint !
 De ervaring van de Heilige Geest!
2
 The Emmanuel : How does it work ? … « The essentiel is Love »
In Pierre Goursat's words.
 L'Emmanuel: comment ça marche ? … « L'essentiel c'est l'amour » !
Dans les mots de Pierre Goursat.
 De Emmanuel: hoe werkt het? … « Het essentiĂ«le is liefde »!
In de woorden van Pierre Goursat.
3
 Be Woman !
 Sois femme !
 Wees een vrouw !
4
 Being a man among men !
 Être homme parmi les hommes!
 Om een ​​man onder mannen te zijn!
5
 Dragon fighter !
 Combattant spirituel !
 Geestelijke jager!
6
 Our Church 2.0
 Notre Eglise 2.0
 Onze Kerk 2.0
7
 Freindship's guide and more if affinity …
Buddy, Friend or Lover ?
 AmitiĂ© et plus si affinitĂ© … Copain, ami ou amoureux ?
 Vriendschap en meer als affiniteit … Buddy, vriend of geliefde?
8
 If God cares, why doesn't he do anything … ?
 Si Dieu ne s'en fout pas,
pourquoi il ne fait rien … ?
 Als het God niet kan schelen,
waarom doet hij niks …?
9
 Bioethics : death or life in abundance ?
 Bioéthique : la mort ou la vie en abondance ??
 Bio-ethiek : dood of leven in overvloed ?
10
 What shall I do after my studies ?
 Qu'est-ce que je ferai après mes Ă©tudes ?
 Wat ga ik doen na mijn studie?
11
 Sky is the limit ! The freedom that Jesus gives us.
 Rdv au ciel ! La liberté que Jésus nous donne.
 Hemel is de limiet ! De vrijheid die Jezus ons geeft.

Price and conditions

Prix et conditions

 –

Prijs en condities

Full week-end price – prix week-end complet – volledig weeken prijs
75€ — Solidarity  –

Solidarité

 –

Solidariteit

65€ — Standard (AFTER FEBRUARY 10) – Normal (APRES 10 FEVRIER) – Normaal (NA 10 FEBRUARI)
55€ — Students Discount (UNTILL FEBRUARY 10) – RĂ©duction Ă©tudiante (JUSQU'AU 10 FEVRIER) – Student korting (TOT 10 FEBRUARI)
Formule complète pour les étudiants du Foyer saint Paul (Louvain-la-Neuve)
! Minimum prepayment of 30 EUR to validate registration and balance must have been paid by February 10, 2018.
! Acompte minimum de 30 EUR pour valider l'inscription et le solde est à payer avant le 10 février 2018
! Minimale voorschot van 30 EUR om de inschrijving te bevestigen en het saldo moet voor de 10 Februari 2018 betaald zijn.
****************
The price may not be a problem. You may ask for a special financial assistance to winterforum (at) emmanuelyouth.be


Le prix ne peut pas être un obstacle à la participation, vous pouvez solliciter une aide spéciale à winterforum (at) emmanuelyouth.be


De prijs kan geen obstakel worden. U kunt om een bijzondere ondersteuning vragen aan winterforum (at) emmanuelyouth.be


****************
Cancellation policy – nothing will be refunded after February 10, 2018
Conditions d'annulation – rien ne sera remboursable après le 10 février 2018
Annulering – niets zal worden gerestitueerd na 10 februari 2018
Bank Payments
MANUB asbl c/o Emmanuel Youth Belgium
Chemin Saint-Pierre 20 – 7030 Mons, Belgique
Bank Belfius:
IBAN: BE26 0688 9419 4729
Code BIC Belfius Bank : GKCCBEBB
 Housing – 
Logement

–

Behuizing

Accommodation – there are only double rooms, but great comfort  – either you can mention the name (s) of the roommates or, anyway, the team will find a good someone and pass the question – Note that boys and girls will not be mixed.

Logement – il n'y a que des chambres doubles, mais grand confort – soit tu peux mentionner le ou les noms des colocataires soit, de toutes façons, le team vous trouvera quelqu'un de bien et passez la question – Notez que les garçons et les filles ne seront pas mélangés.

Housing – er zijn slechts dubbelkamers, maar comfortabel  – U kunt de naam of namen van huisgenoten vermelden of, in ieder geval, het team zal u een goed mens vinden en laat de vraag – Noteer dat jongens en meisjes zullen niet worden gemengd.
Logistics –Â 
Transport

–

Vervoer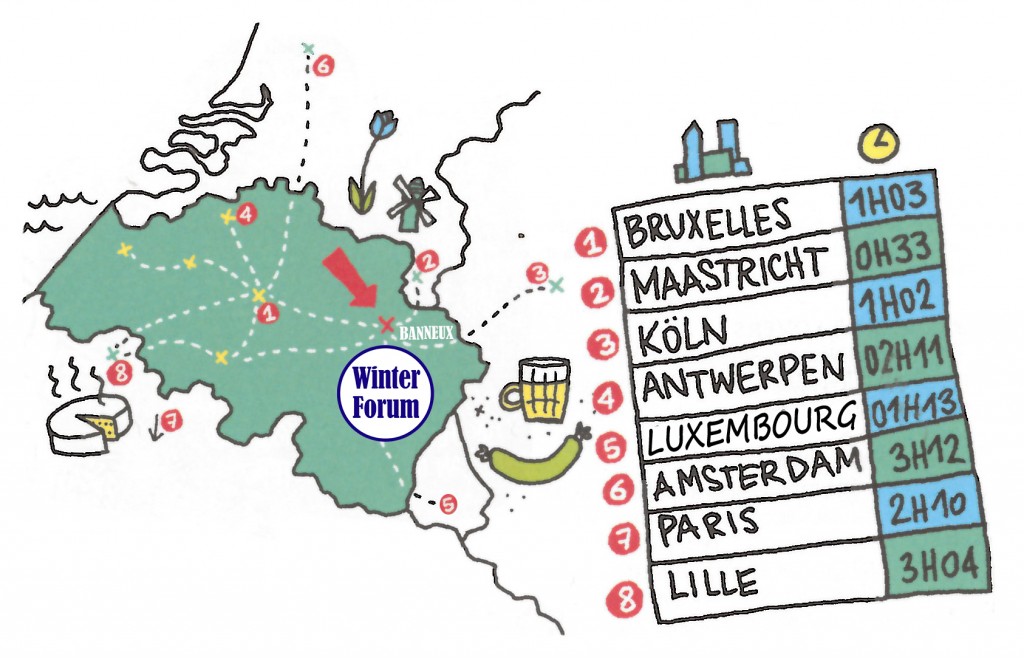 Départs en voitures ou trains depuis Bruxelles, LLN, Namur, Liège
Vertrek met wagens en bussen vanuit Nijmegen en Gent !
Proposition de trajets en transports en communs:
Train Bruxelles-Nord – Liege-Guillemins départ 17:37 – arrivée 18:30 dernier bus vers Banneux quitte Liège Guillemins à 18h59, arrivée Banneux vers 19h40.
Voyage de Louvain-La-Neuve-Univ. à Liege-Guillemins le 17/02/17
Prenez S8 6388 de Louvain-La-Neuve-Univ. Ă  la voie 3 Â Ă  Ottignies.
Le départ de Louvain-La-Neuve-Univ.  à  18:31, en direction Ottignies, arrivée à Ottignies à 18:39.
Prenez IC 2418 de Ottignies à la voie 3 en direction Liege-Palais à Liege-Guillemins, arrivée à 20:09.
La durée de votre voyage est: 1 heures 38 minutes
Un bus spécial WinterForum quittera Liège Guillemins à 20h20, arrivée Banneux à 20h50. Prix: 5 EUR par personne.
Plus d'infos sur: www.sncb.be ou http://www.infotec.be
Pour le retour le dimanche,
il y aura une bourse de co-voiturage et les bus réguliers (13h10-14h40-16h10) redescendront les participants vers Liège-Guillemins.
——————————–
What the participants say about the Winter Forum …
Ce que disent les participants Ă  propos du Winter Forum …
Wat de deelnemers zeggen over het Winter Forum …
« A weekend to discover that there are other young people who walk in the faith. The dinner fries and steak was particularly delicious! Long live the winterbar! Thank you to the entire organizing team. «
Eric
"C'était fantastique de vivre ce temps avec tous ces jeunes. C'est un réel décalage avec une certaine image d'une Eglise moralisatrice véhiculée par certains médias. Il faut vraiment le vivre. Nous avons parlé d'un tas de sujets d'actualité qui nous concerne, nous les jeunes: études, futur travail, mariage, souffrances, Facebook, liberté, Dieu aussi bien sûr. En fait, nous sommes l'avenir de l'Eglise, non ?"
François
"Dit Winterforum was de beste ervaring van mijn leven! Vrienden hadden me uitgenodigd en ik was geraakt door de vreugde van de deelnemers en de animaties. Ik herontdekte een hechte God, geïncarneerd door zijn zoon Jezus, welwillend en vooral geduldig met mij. Kortom, ik was mezelf. Ik was vol energie, vreugde en vrienden!"
Sophie
Teasers WinterForum 2018
Theme                                                                      FlashMob Tutorial
Vlaanderen en Nederland doen mee !                       Mad and the singing sisters
So ? tu kom ?
Alors ? you come ?
Dus ? Viens jij ?
…







Registrations

 

–

 
Inscriptions

 

–

 

Inschrijvingen